Game Modes are multiplayer modes featured in Zooba: Battle Arena.
Currently, there are a total of four game modes: Solo Mode, Duos Mode, Trios Mode, and Squads Mode.
Solo Mode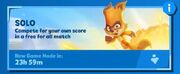 In Solo Mode, you are matched against 20 players and 15 guards. However, you only have one life. Your main objective is to collect weapons, defeat other players to get their loot, and be the last one standing.

There are three variations of Solo Mode:
Lite: Shorter matches consisting of 5 guards and 10 players.
Standard: Regular matches with 15 guards and 20 players.
Full: Longer matches consisting of 15 guards and 30 players.
These variations will be available to everyone, but only one can be playable at any given time and they rotate every 3 hours.

Rules:
Trophy requirements: None.
Banned items: Defibrillator
Duos Mode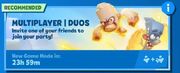 In Duos Mode, you are paired up with a partner.
The main objective is simple: You and your partner must stick together and work as a team to battle it out against other duos. Split up your roles, coordinate your attacks and be the last duo standing!
The game mechanics and rulings are very similar to Solo Mode with a few differences.
Rules
Before joining, you will be given the option to invite either a friend or a clanmate. Otherwise, you will be assigned with a random teammate instead.
Weapons that you pick up will also be picked up by your teammate as well, as long as they're within screen range.
If your teammate is killed, you will only have a few seconds to revive them before they drop their loot.

However, the defibrillator item can further facilitate this process with its resurrecting effect.

Certain character abilities can be used to help teammates.

Lizzy's eggs can heal teammates.
Louie's Rat Army can protect a teammate from taking damage.
Steve's Passive can lock-on to enemies and alert his teammates of their location.
Betsy's Log Barrier can block any damage for your teammates just like normal barrier
Trophy requirements:100 or more to play.
Banned items: None.
Trios Mode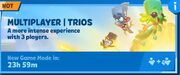 Trios Mode will function like Duos mode. You are assigned into a team of 3 players and must work together to be the last ones standing.
Rules
Trophy requirements: 100 or more to play.
Banned items:None
Squads Mode

In Squads Mode, you will be matched with a team of 5 players.
Rules:
Trophy Requirements: 700 or more to play.
Banned items: Molotov Bomb
Community content is available under
CC-BY-SA
unless otherwise noted.