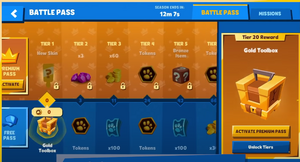 Battle Pass is a feature in Zooba Battle Royale, that grants you lots of rewards. The more you play, the more chances you have to win awesome prizes.
Each Season Reset, you're going to find a road full of cool things in both Seasons & Mastery and Battle Pass to unlock: crates, toolboxes, coins, gems, stickers, event tickets and even skins!
Battle Points
To advance in the road, you have to collect Battle Points. The points are earned with Missions that you complete each day. If you are a Premium Pass player, you have access to retroactively play the missions that you received on the day before whenever you want to and get even more points.
Battle Points also can earn by killing Guards or Players in Game Modes. Number of kills = number of Battle Points
Also, with this special pass, If you find a very difficult mission that you cannot through, you can reroll it for a few gems! The first one of the day will always be on us, so enjoy a free reroll! :)
Battle Pass
Free Pass
Free Pass is for everyone, you can only collect the prizes on the bottom.
Free
Can unlock to tier 30.
Free crate, skin, gems, coins, and tickets
Premium Pass (VIP)
Zooba's form of VIP is offered as a $9.99 / week membership. There is a promo pricing sometimes given for $4.99 per month when buying gems. iOS users have the ability to go into their subscriptions settings and select different pricing options, most notably a $99.99 / year option. Android users are restricted to the default $9.99 / week option. Below you'll find an in-depth breakdown on all of this and an overall conclusion about VIP. You can collect both the prizes on the bottom and on top too!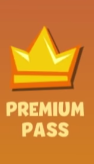 $9.99/ week
Can unlock to tier 40
Extra 100 battlepoints per day
Allows a 2nd crate to be queued up
A single crate will be 20% off the first time you purchase it for that day
Allows you to complete any incomplete battle pass missions from the previous day
Allows you to exchange any mission for a new one (first replacement of the day is free)
Your name on leaderboard, in clan, and on your profile appears as a shiny gold
Your stickers have a star above them and are highlighted gold
More Juicy reward: more tokens, gems, coins, tickets; a legendary skin and legendary crate
Rewards
| Tier | Point | Basic Reward | Basic Gems Value | If Skins Owned | VIP Reward | VIP Gem Value | If Skins owned |
| --- | --- | --- | --- | --- | --- | --- | --- |
| 1 | 0 | Gold Crate | 101 | 101 | New Skins/ 900 coins | 250 | 54 |
| 2 | 3 | Tokens x2 | 6 | 6 | Coins x60 | 4.8 | 4.8 |
Trivia
You get a free golden toolbox/crate(mostly gold toolbox) every season. You can earn a new skin every season with premium/V.I.P
Community content is available under
CC-BY-SA
unless otherwise noted.